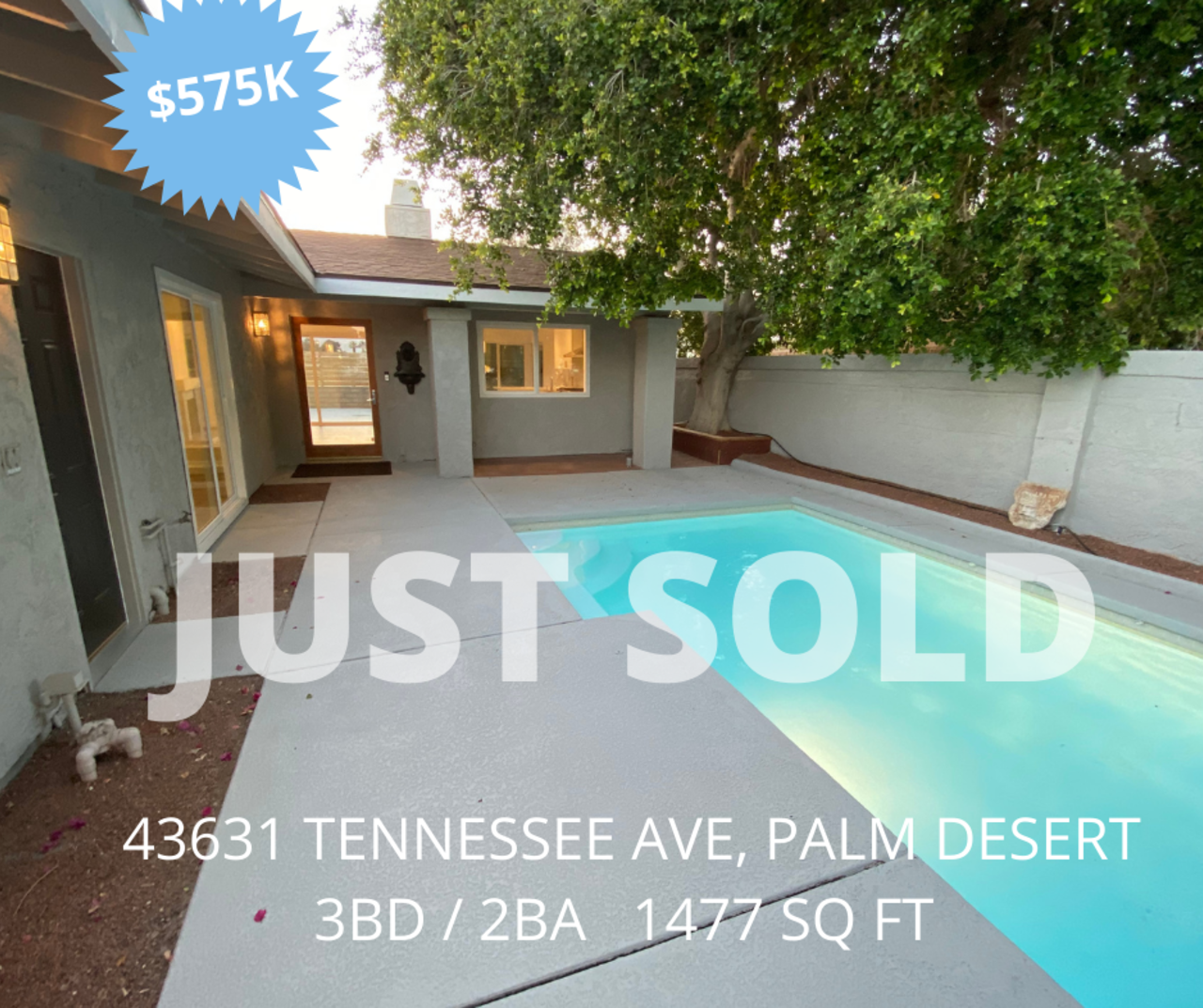 April 2022
Robyn represented us when we sold my father in law's house in Palm Desert. After receiving more than 10 offers, we closed in 10 days with an all cash offer, no contingencies – $106,000 over our list price! All in the middle of a pandemic. Results speak for themselves. Robyn was our partner and advocate from start to finish.





When my father in law passed away in his home of over 20 years, a parade of realtors emerged to try to represent us on the sale of his house. While the house had great bones, an open floor plan and mature shade trees, he had deferred most of the maintenance for years. The house was also full of clutter, junk and garbage – typical of a senior couple in their late 80s. The valuations we got from all the realtors was no better than what we could conclude on our own by combing through websites such as Zillow and realtor.com. Based on the underwhelming comparables, it would make the most sense for us to just dump the property as is – any money invested to improve the property was super risky and there were almost no flippers in the immediate market. Then we met Robyn. She was the ONLY realtor out of a good dozen, who disagreed with our valuation estimates – She had represented a buyer on a house a few blocks away and told us that we were leaving a lot of money on the table if we didn't invest in renovating the house. Even though she is based out of Los Angeles, she knew the local market better than any of the local realtors! She pointed to some sales that were pending and would bring up the neighborhood valuations, and most importantly, forecast that the sheer lack of inventory would drive up the prices in the neighborhood.





Based on Robyn's advice, we invested in a total remodel of the house. Other than the roof and air conditioner that were replaced while my father was alive, every other inch of the house was updated, upgraded, new or replaced – Inside and out. She drove out from Los Angeles and personally supervised the listing process, photos and virtual staging. Based on her advice, we had all of the inspections done in advance – home inspection, termite report, sewage drain inspection. Most importantly, she walked me through all of the disclosures to ensure that they were accurate. By the time the listing hit, we had done as much in advance to reduce any potential requests for repairs from buyers when in escrow. The listing itself was beautiful – The house looked like a million dollar house! It turned out so well, we listed the house at the highest price for a similar sized house in the neighborhood.





Robyn vetted and prequalified all potential buyers who requested a viewing. Based on the tremendous amount of interest, the house was toured by more than 30 prospective buyers over 3 days. As buyers indicated interest in bidding, she set a deadline for offers. When the dust settled, we had over 10 offers, most well above our list price. We went through a spreadsheet of offers together and selected the winning offer. We closed 10 days later with an all cash offer, no contingencies – $106,000 over our list price. Thanks Robyn!
Scott & Agnes